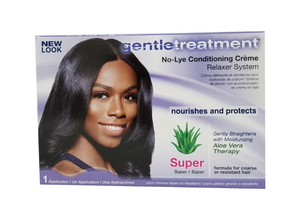 Gentle Treatment No-Lye Conditioning Creme Relaxer Super.
 Super Formula for Coarse/Hard to Curl/Resistant Hair. Included in the relaxer creme is out naturally derived pure aloe vera gel. The brilliant chemists at Johnson Products have succeeded in actually improving the first patented relaxer. Plus two substantive conditioning agents that work to protect your hair from damage, dryness and dullness. That conditions and relaxes your hair in one easy, convenient step. New state of the art relaxer technology has been incorporated to give you less hair damage, better straightness and sheen than ever before.
Gentle Treatment® Relaxers have provided beautiful, silky hair for consumers around the globe. The patented Gentle-Timed Formula is enriched with Aloe Vera Gel and conditioning agents that result in silky, smooth hair with body and shine. Regular is formulated for Fine or Normal hair.