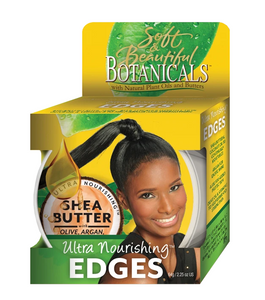 Experience Ultra Nourishing natural oils and butters that help moisturize, repair and strengthen while gently protecting your hair and scalp from damage.
DESCRIPTION
This Ultra Nourishing Edges is perfect for smoothing pony tails, braids and the hairline temple area. Natural curls, straight styles or color-treated hair can achieve amazingly smooth, healthy-looking hair with radiant shine.
HOW TO USE
Styling Tip: Apply a dollop to your edges and the hairs at the nape of your neck for sleek ponytails, pompadours and updos. Use a finetooth comb or hard bristle brush to manipulate your hair.